These Pumpkin Spice Cinnamon Rolls are what fall dreams are made of. 😍 They are pumpkin-infused, fall-spiced and seriously addictive. These fall treats are definitely in a league of their own.
It's the classic cinnamon rolls meet cozy autumnal flavors. A fun fall twist on the classic, with pumpkin puree and pumpkin spice, baked right into the dough and then topped with a luxurious and decadent homemade maple glaze frosting – you will love them!
I elevated my cinnamon roll dough game by swapping out the all-purpose flour for bread flour and the results were better than Cinnabon Pumpkin Spice Cinnamon Rolls. The softer and chewier texture places these rolls over the top and if you are already thinking about baking this weekend, these pumpkin spice cinnamon rolls are here for you.
You can serve cinnamon rolls as breakfast, snack, or dessert, or anytime you krave the softest and better than Cinnabon Pumpkin Spice Cinnamon rolls.
You will Fall in love with these cinnamon spice cinnamon rolls – they will not disappoint.
Tips For The Best Pumpkin Spice Cinnamon Rolls
Check the expiration date on your yeast packet. If you're unsure if your yeast is alive – proof the yeast prior to adding it to your dough.
Don't overheat your milk. It should be between 105-115 degrees F. If it's hotter it will likely kill the yeast, which means the cinnamon rolls will not rise. A simple tip is to dip your finger in the milk — it should feel warm similar to warm bath water but not HOT. If you warmed it up too much, simply wait a few minutes until it cools down enough to touch.
Use room temperature butter for the filling. Most recipes call for using melted butter in the filling, but that will cause the filling to leak out before baking. Room temperature butter is best!
Rub the brown sugar into the butter. After you spread out the softened butter on the dough, it's important to rub the brown sugar into the butter and dough so that it's well combined.
Use a room temperature egg. Cold eggs could affect the yeast or mix with the melted butter and cause it to coagulate. As an easy way to bring your eggs to room temperature simply place them in a bowl of warm water for a few minutes prior to use.
Make sure you flour your work surface and the rolling pin. This is to prevent the cinnamon rolls from sticking to the surface or to the rolling pin.
Calibrate your oven. This will ensure you're getting an accurate reading on the temperature. Every oven is different so grab the manual for the most accurate way on how to calibrate your specific oven.
Cinnamon rolls from the center of the pan are always softer than those around the edge. So choose a pan that can hold a higher percentage of interior rolls. Rather than two 9″ round pans, use a 9″ x 13″ pan.
Underbake cinnamon rolls just slightly. You want to underbake them a little so they stay soft in the middle, that's why we want them just slightly golden brown.
Frost rolls while warm. The thick icing will partially melt, seeping down into the crevices between the rolls, as well as into the cinnamon swirl.
Bread Flour vs. All-Purpose Flour
A good cinnamon roll means a roll that is soft and moist. The gluten content will be slightly higher and bread made with bread flour are slightly chewier than all-purpose. All-Purpose flour has a lower protein and thus lower gluten content, meaning the finished rolls will be more tender and soft with less chew factor. Either flour works for this recipe it comes down to personal preference. But I encourage you to try the bread flour–It's a game changer.
What is Yeast?
Yeast is a living organism that feeds off carbohydrates and simple sugars. Feeding kickstarts the fermentation process. This is the process where it releases carbon dioxide that expands the gluten protein and causes the dough to expand and rise.
Active Dry Yeast vs Instant Yeast
Active dry yeast The rule used to be you must dissolve this type of yeast in warm liquid, also what's known as being "proofed" before it's added to the rest of the dough ingredients. According to the King Arther Flour website, "You don't need to dissolve active dry yeast in lukewarm water before using it. (Even though it still says you should dissolve it on the back of the yeast packet if you buy your yeast in packets.)" You can read the full post here.
The bottom line is: "dissolve yeast in warm water and some sugar to prove that it's alive. Sugar is food for the yeast. But, this shouldn't really be necessary if the yeast isn't close to its expiration date. But if you have any doubts about your yeast being good, go ahead and proof it before mixing up the other ingredients (and especially before putting liquid in). If it fails then you didn't waste materials.
The bottom line is: "dissolve yeast in warm water and some sugar to prove that it's alive. Sugar is food for the yeast. But, this shouldn't really be necessary if the yeast isn't close to its expiration date. But if you have any doubts about your yeast being good, go ahead and proof it before mixing up the other ingredients (and especially before putting liquid in). If it fails then you didn't waste materials.
Ingredients Rundown
Ingredients To Make Pumpkin Spice Cinnamon Rolls
Milk – whole, 2%, almond or oat milk will all work in this recipe. Milk must be warmed.

Granulated sugar – used to sweeten the cinnamon rolls as well as serve as food for the yeast.

Yeast – I used instant yeast in this recipe to help the cinnamon rolls rise faster. You can also use active dry yeast , but the cinnamon rolls may take slightly longer to rise.

Pumpkin puree – not only gives the cinnamon rolls sweet flavor, but also adds the perfect amount of moisture, resulting in a fluffy, perfect pumpkin cinnamon rolls.

Butter – I used salted butter but unsalted butter works too. You'll need it for both the dough and the glaze. The recipe calls for both melted butter and softened room temperature butter. Pay attention to which one is used in what part of the process.

Egg – not all cinnamon bun recipes have eggs in them, but this one does and it adds extra richness and flavor because the cinnamon roll dough is enriched instead of just regular. Make sure you take your eggs out of the fridge and let the come to room temp. If you forget, just pop them into a bowl with hot tap water, which will bring them to room temp faster. Room temperature eggs blend more evenly in batters and help the dough rise more easily than cold eggs straight out of the fridge.

Bread flour – You might be tempted to just use all-purpose flour, and well, you can do that, but if you use bread flour your rolls will be soft and fluffy with just the right amount of chew. Bread flour has a higher protein content than regular all-purpose – the resulting dough has more gluten in it which helps the rolls stay soft, airy, and chewy. The higher protein level helps to lighten the cinnamon roll texture.

Spices – Pumpkin pie spice and ground cinnamon

Brown Sugar – I love using dark brown sugar for that deeper molasses sweet flavor in those swirls, but light brown sugar will work as well. Use packed brown sugar.

Cream cheese, (room temperature), powdered sugar, and pure maple syrup are key ingredients in the glaze.

Salt – This will round out all the flavors in the cinnamon rolls. Your cinnamon rolls will taste bland without it. Salt also helps to control yeast in cinnamon roll recipes so don't skip it.
*** The full recipe, including all ingredients, measurements, instructions, and recipe video (coming soon) 🎥 is located in the recipe card below.
Recipe FAQs
Substitutions
Can I Use Plant-Based Milk Instead Of Dairy?
Yes! You can use almond milk or oat milk.
Variations
How To Make Vegan Pumpkin Spice Cinnamon Rolls?
You can easily swap out a few ingredients to make these pumpkin spice cinnamon rolls vegan. You can leave the egg out of the recipe and add 3-4 tablespoons more pumpkin puree to the dough. You'll also need to use almond milk, vegan butter, and vegan cream cheese in the recipe. Boom!
How To Make Overnight Pumpkin Spice Cinnamon Rolls?
After placing rolls into the lined pan (in step 7 under "Let's Shape The Cinnamon Rolls"),
Cover immediately with plastic wrap and place overnight in the fridge to prevent the dough from drying out.
Bake them in the morning as directed.
I like to bring my cinnamon rolls to room temperature first by leaving them on the counter for 30 minutes before baking, then preheating the oven so they will rise for about 45 minutes total (this is known as the second rise).
Food Pairings
What Goes Well With Cinnamon Rolls?
Cinnamon rolls are sweet, so they work well when paired with contrasting flavors. Enjoy the cinnamon rolls with your coffee, tea, orange juice, or even a glass of milk.
Got Leftovers?
Make sure the leftovers have cooled down to room temperature before storing.
How To Store Leftover Cinnamon Rolls In The Fridge?
The cinnamon rolls are best enjoyed the day they are baked but will last up to 4 days when wrapped well in foil at room temperature.
How To Store Leftover Cinnamon Rolls In The Freezer?
Alternatively, you can tightly wrap and freeze the rolls for up to 1 month. Store your leftover cinnamon rolls covered in airtight containers or heavy-duty freezer bags, or wrap tightly with heavy-duty aluminum foil or freezer wrap.
How Long Does Cinnamon Rolls Last In The Freezer?
Properly wrapped and stored, it will maintain the best quality for about 1 month.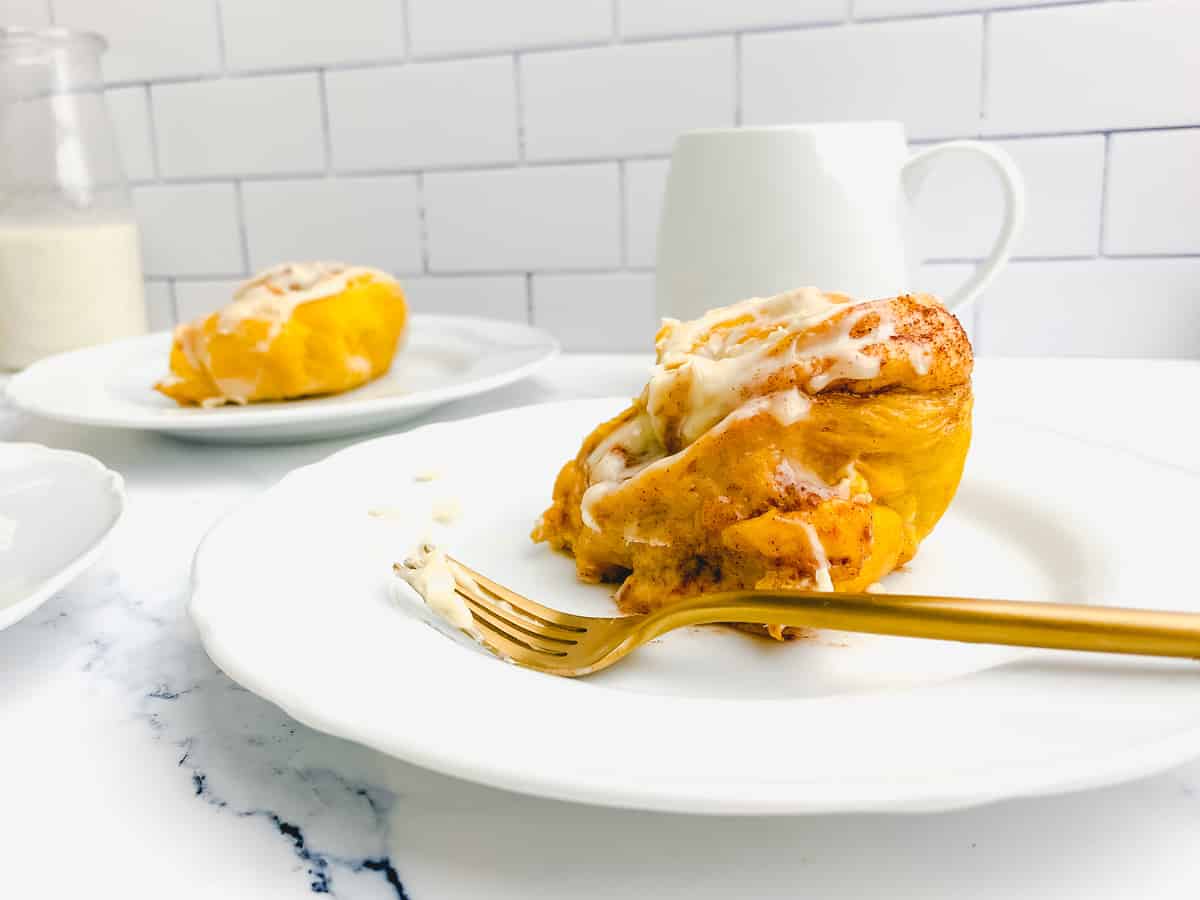 Need To Reheat?
How To Reheat Cinnamon Rolls In The Microwave?
Thaw the frozen cinnamon rolls in the refrigerator or at room temperature (if applicable), then reheat individually in the microwave immediately prior to serving for 20-30 seconds. You want them warm, not hot. The actual time varies depending on your microwave.
How To Reheat Frozen Cinnamon Rolls In The Oven?
Allow the cinnamon rolls to come to room temperature after baking, then you can choose to either freeze the entire pan, making sure they are well wrapped or covered in an airtight container, or you can choose to freeze individual cinnamon rolls.
Defrost the cinnamon rolls at room temperature, then warm in the oven at 350 degrees F for 10-15 minutes or you can warm them up individually in the microwave for 20-30 seconds (once defrosted). I prefer to freeze them before they are iced, and then frost them when ready to eat. The icing is also freezer-friendly.
Kraving More?
Check out my other krave worthy Cinnamon Rolls Recipes or browse the Dessert Kollection for your next favorite sweet treat. You can aslo explore The Recipe Index for even MORE KRAVE-WORTHY EATS.
Key Equipment/Products Use
Nutrition Information
Nutrition Facts
4 servings per container
Serving Size1 servings
---
Calories384.59
Amount Per Serving% Daily Value *
Total Fat 15.13g

24

%
Sodium 242.63mg

11

%
Amount Per Serving% Daily Value *
Potassium 128.03mg

4

%
Total Carbohydrate 56.16g

19

%
Protein 6.97g

12

%
Vitamin A

733.34

%
Vitamin C

0.24

%
Phosphorus

81.38

%
Zinc

2.51

%
* The % Daily Value tells you how much a nutrient in a serving of food contributes to a daily diet. 2,000 calories a day is used for general nutrition advice.
Nutritional Disclaimer
kerriannskravings.com occasionally offers nutritional information for recipes contained on this site. This information is provided as a courtesy and is an estimate only. To obtain the most accurate representation of the nutritional information in any given recipe, you should calculate the nutritional information with the actual ingredients used in your recipe. For more information read our Nutritional Disclaimer.