Move over classic fried chicken. There is a new queen in town. This extra-crispy curry fried chicken satisfies your curry and fried chicken kravings all at the same time. It's the perfect fried chicken with the crispiest, most flavorful, crunchy outside with moist and juicy meat on the inside.
It's a delicious Caribbean-inspired twist to a Southern American classic. The chicken is marinated overnight in creamy coconut milk brine & a well-seasoned Jamaican curry mixture then tossed in a seasoned flour mixture and deep-fried until crispy, golden brown, and juicy!
What more could you ask for in a fried chicken?? 😁
This fried chicken recipe will quickly become your new fave and the entire family will love it too.
It's perfect for your summer picnics, cookouts, brunches, and Sunday dinners too.
What's The Best Part Of The Chicken To Use For Fried Chicken?
Whatever your favorite part of the chicken is the best part to use (in my opinion). You can even fry up the whole chicken or cut it up and use parts of the chicken. It comes down to personal preference and what's readily available to you. I am personally on team dark meat (drumstick and bone in tighs) all day. If you're using the chicken quarter, make sure you separate the tight from the drumstick to reduce cooking time. If you prefer white meat, a pack of bone-in breasts will be the way to go.
How Long To Deep Fry Chicken?
Cooking time will vary depending on the size and thickness of the pieces. In general, the process takes approximately 12 minutes for the chicken to cook all the way through. At the 10 minute mark, insert your meat thermometer for a more accurate read. Keep in mind that white meat will cook faster than dark.
It's dangerous to eat raw or undercooked chicken due to the possible presence of bacteria such as salmonella or campylobacter. According to the USDA, the temperature is the best and only sure way to tell if the chicken is fully cooked and safe to eat. That means that all parts of the chicken should reach a minimum internal temperature of 165 ° Fahrenheit (73.9 °C) before you eat it.
What's the Best Oil To Fry Chicken In?
The best oil for frying chicken is a neutral oil that has a high smoke point. I recommend ghee, avocado, vegetable, canola, peanut oil, lard, and duck fat but you can also use sunflower oil, high oleic safflower oil, and oil blends for best results.
Olive oil is not a neutral oil; it brings a distinct flavor to a dish. Save this for your sautéed dishes and salads.
A neutral oil refers to the flavor of the oil.
Can I Reuse The Oil I Fried The Chicken In?
Of course, you can! That used oil is packed with so much flavor. Here's how you save and reuse the oil. Allow it to cool completely then strain (or filter) the oil to remove the burnt bits of chicken. You don't need to buy oil filtering paper. A Paper towel, a strainer, and some patience will get the job done.
Line the strainer with a clean paper towel. How many plies are needed will depend on the size of the strainer. Pour the oil into the strainer in small batches so you don't overflow above the paper towel. Once it's all strained, throw away the paper towel and pour the oil into a bottle or jar with a lid. Easy peasy.
What's The Best Temperature to Cook Fry Chicken In?
The optimal/best oil temperature to fry chicken is 350 degrees Fahrenheit (175 degrees Celsius). It's hot enough to fry and cook your chicken – allowing the outside to crisp up (without burning too quickly)and the inside to cook without drying out. If you're using a deep fryer, frying is as easy as setting the temperature and waiting until the pre-heat light illuminates then you're all good to go.
If you are frying on the stovetop, use a clip-on deep-fry thermometer to maintain the temperature.
If the temperature drops too low, bring the oil back up to temperature before frying the next batch.
What Type Of Flour Is Best For Frying Chicken?
I personally like and use all-purpose flour (and cornstarch combo) whenever I'm frying chicken. For me, Cornstarch is the secret ingredient to create an extra crispy crust.
You can also use self-rising flour to dredge the chicken. The self-rising flour will automatically puff up once heated and create a crispy crust on the fried chicken. You can also create a DIY self-rising flour at home.
Can I Deep Fry Chicken Without A Deep Fryer?
Yes, You don't need a deep fryer to make the best-fried chicken. It's not essential for deep frying. It's convenient and makes deep frying so much easier. But all you really need is a heavy bottom cast iron skillet or dutch oven pan (I love Lodge's dutch oven and skillet ), some cooking oil, and a slotted spoon.
Cast irons retains and distribute heat evenly which allows for even cooking.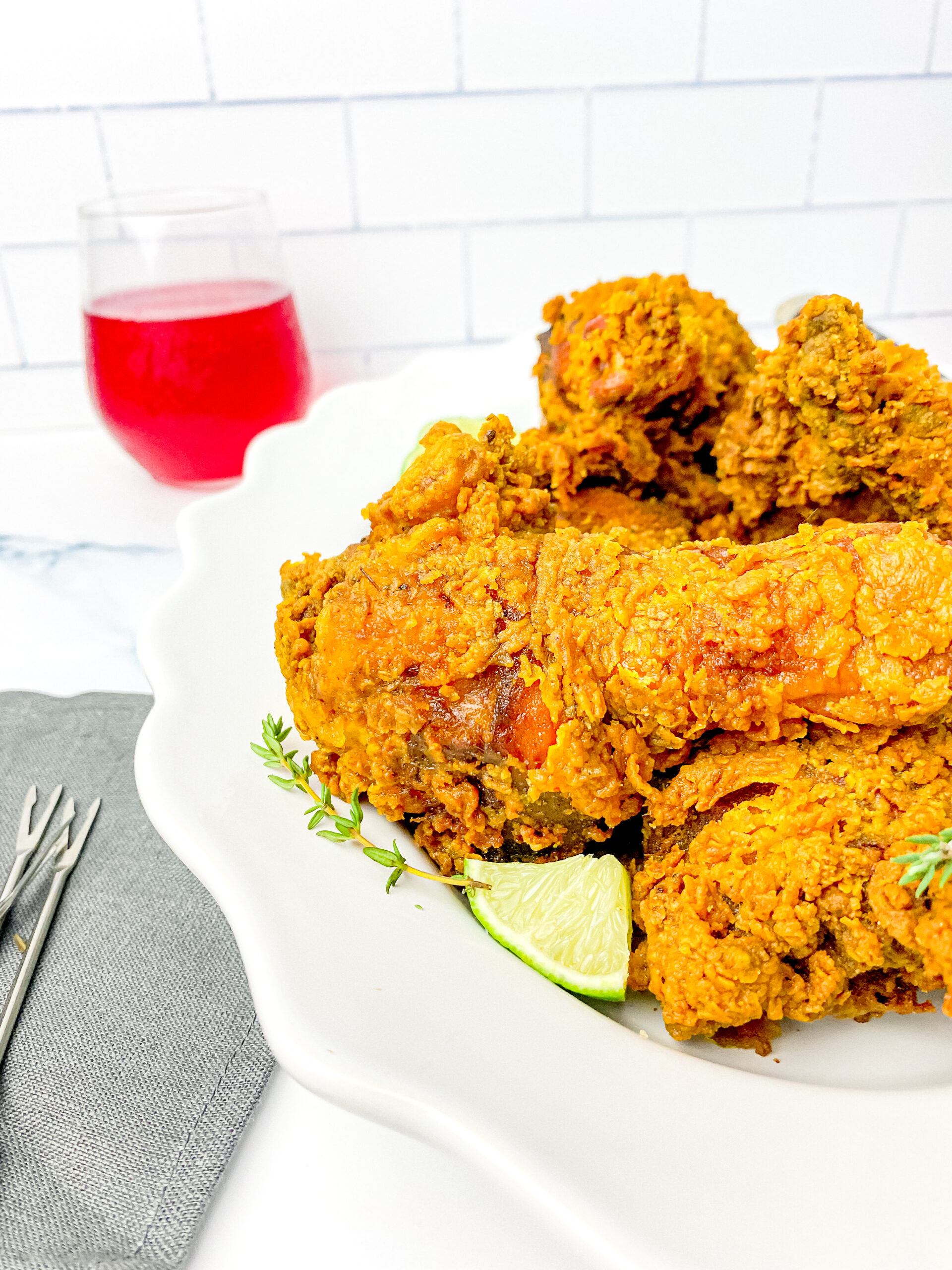 What's The Secret to the Crispiest Fried Chicken?
Cornstarch Is the secret to the crispiest fried chicken. Seriously, it's my secret weapon.
Cornstarch is typically used as a thickening agent for sauces and gravies. Still, when paired with all-purpose flour, cornstarch helps prevent gluten development, making the flour coating so much crispier.
To achieve extra crispy curry fried chicken, try replacing 1 cup of flour with cornstarch. For example, for every 2 cups of flour, add 1 cup of cornstarch.
You'll find yourself with extra crispy chicken, with minimum extra effort!
Double Dip the chicken in the flour for that extra crunch (flour, rest for five minutes, then back in the flour). It's definitely worth the extra step.
Rest the breaded chicken for five minutes before frying. This allows the coating to stick to the chicken to produce that really crusty crust we love and krave.
Use a neutral oil with a high smoke point.
Don't overcrowd the pot or fryer. Adding too many pieces will lower the temps
350 degrees Fahrenheit is the optimal frying temperature – maintain it consistently throughout the frying process.
Once the chicken has reached its desired doneness, please remove them from the fryer. Do not allow them to sit and soak up the oil.
Allow the fried chicken to rest on a wire rack lined with paper towels to ensure that they were not greasy and retained their crunch.
Don't be intimidated by deep-frying, it gets easier over time.
Ingredient Rundown
Ingredients For Curry Fried Chicken
Poultry

Chicken quarters, bone-in, skin-on, and separated

Spices

Jamaican Curry Powder – brings the Caribbean vibes and flavor.

Ground Turmeric Powder (optional) – boosts the color of the curry + all the health benefits turmeric adds to the dish.

Onion Powder

Garlic Powder

Smoked Paprika (or regular)

All-purpose seasoning

Whole Pimento Seeds(allspice berries) – brings that Caribbean flavor to the dish.

Fresh Thyme Leaves or dry thyme leaves – This is my favorite seasoning to cook with. Fresh thyme is so much more fragrant and flavorful than the dry version bur either will work for this recipe.

Dry bay leaves – you can use fresh bay leaves as well.

Custom Seasoning Blend – this is my own custom blend of fresh seasoning. This is add another layer of flavor to the fried chicken.

Jerk Seasoning – Brings the heat. Adds more or less to control the heat intensity.

Oil

Extra Virgin Oil (or your choice of vegetable oil) – this is added to the marinade to keep the meat moist and helps to massage the spices into the meat.

Oil for frying – Use a neutral vegetable oil with a high smoke point. DO NOT use extra virgin olive oil.

Liquids

Unsweetened Coconut Milk – add moisture and its the liquid base for the brine. It will also add a very subtle coconuty flavor to the fry chicken.

White distilled vinegar, lemon or lime juice – to rinse the chicken.

Cool tap water – to rinse the chicken in.

For the Flour Dredge

All-purpose flour – creates the crusty coating on the chicken.

Cornstarch – gives that crispy crust that we krave in our fried chicken.

All-purpose seasoning – adds flavor

Smoked paprika (or regular paprika)- adds flavor

Salt & Pepper

Jamaican Curry Powder – adds color + curry flavor to the crust.

Ground Turmeric Powder (optional) boosts the color of the curry + all the health benefits turmeric adds to the dish.

*** The full recipe, including all ingredients, measurements, instructions and recipe video 🎥 (coming soon) is located in the recipe card below.
RECIPE FAQS
Substitutions
I Don't Have Coconut Milk – What Else Could I Use?
You can use coconut milk powder or coconut cream (dilute according to the packaging instructions).
Can I Use Fresh Turmeric Instead Of Ground Turmeric?
No, you cannot substitute ground turmeric for the fresh variety. It needs to be in powdered form so it can be easily dispersed in the marinade and dredge mixture. Turmeric is an optional ingredient so you can leave it out.
Got Leftovers?
How To Store Leftover Fried Chicken in the fridge?
You can store your curry fried chicken pieces in the fridge for 3-4 days.
How To Store Leftover Fried Chicken in the freezer?
Freeze it. Freeze in covered airtight containers or heavy-duty freezer bags, or wrap tightly with heavy-duty aluminum foil or freezer wrap.
How long does fried chicken last in the freezer?
Properly stored, it will maintain the best quality for about 4 months but will remain safe beyond that time. Personally, I do not recommend freezing any leftover fried chicken as it may affect the crispy exterior.
Leftovers can be kept for 3-4 days in the refrigerator. After that, the risk of food poisoning increases. If you don't think you'll be able to eat leftovers within four days, freeze them immediately.
Need To Reheat?
How to reheat leftover Fried Chicken in the Oven?
If the thought of eating fried chicken straight out of the refrigerator is a no for you – you're not alone. I feel the same. 🙋🏾‍♀️The oven reheating method is a bit time-consuming but will yield really good results without compromising the crust.
Preheat your oven to 400°F.
Take your fried chicken out of the refrigerator and let it sit for about 10-15 minutes. Taking the chill off helps the chicken reheat evenly and prevents it from losing too much moisture.
Fit a wire rack inside a baking sheet and arrange the chicken on the rack. Doing this will allow hot air to circulate on all sides of the chicken, without steam making the crust soggy. If you don't have a wire rack, use a foil-lined baking sheet.
How to reheat leftover Fried Chicken in the Microwave?
This is not my preferred method of reheating because it often leaves fried foods a bit soggy and way less crispy. Plus, it will also heat unevenly. If microwaving is your only option then here's what I suggest:
Place a paper towel over the plate to help the chicken avoid getting too soggy; the towel will absorb some of the moisture.
Microwave the fried chicken in 30-second intervals until warm, flipping it intermittently.
Be careful not to overdo it, or the chicken will dry out.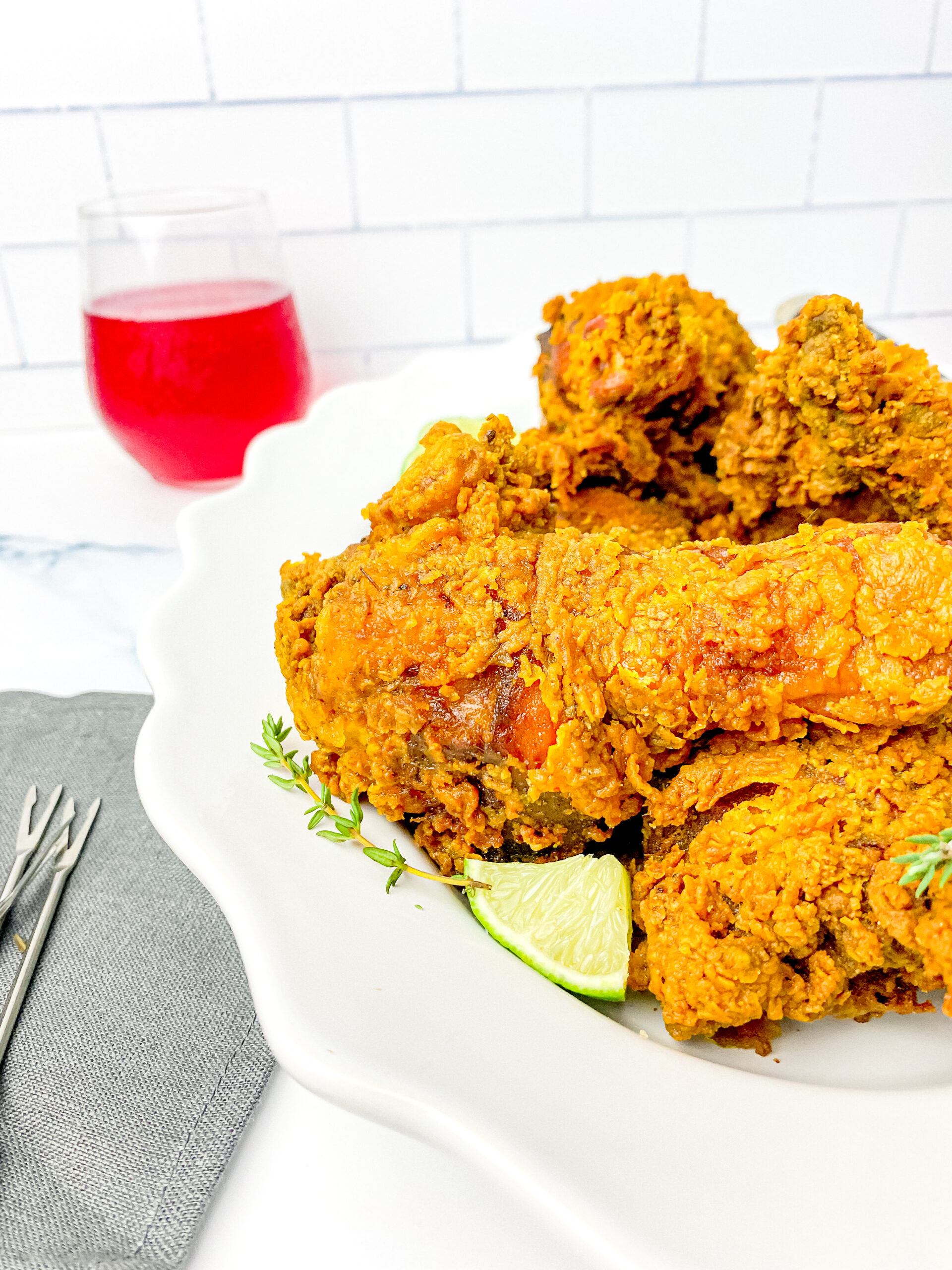 How to reheat leftover Fried Chicken in the Air Fryer?
The air fryer is the best and preferred way to reheat your leftover fried chicken (in my opinion). A microwave oven will yield soggy chicken with hot spots, and reheating fried chicken in the oven takes too long and can dry out the chicken. The air fryer solves all of those problems.
Your chicken will be heated evenly, and the coating will be just as crunchy as it was the day you fried it.
Put the chicken pieces skin-side up in a single layer and air fry at 400F (200C) for 5-6 minutes. Check to make sure the chicken has been heating all the way through. If more time is needed, reheat for another 1-2 minutes and enjoy!
Kraving More?
Check out my other krave-worthy curry recipes, or explore The Recipe Index for even MORE KRAVE-WORTHY EATS.
Key Equipment/Products Used
Nutrition Information
Nutrition Facts
3 servings per container
---
Calories3967.62
Amount Per Serving% Daily Value *
Total Fat 347.03g

534

%
Sodium 2820.11mg

118

%
Amount Per Serving% Daily Value *
Total Carbohydrate 123.45g

42

%
Protein 85.11g

171

%
Vitamin A

156.6

%
Vitamin C

1.1

%
Iron

8.07

%
Phosphorus

825

%
Zinc

3.44

%
* The % Daily Value tells you how much a nutrient in a serving of food contributes to a daily diet. 2,000 calories a day is used for general nutrition advice.
kerriannskravings.com occasionally offers nutritional information for recipes contained on this site. This information is provided as a courtesy and is an estimate only. To obtain the most accurate representation of the nutritional information in any given recipe, you should calculate the nutritional information with the actual ingredients used in your recipe. For more information read our Nutritional Disclaimer.