Jerk Chicken is a traditional Jamaican dish, so the best and most authentic Jerk Chicken can only be found in Jamaica, but that doesn't mean we can't enjoy a similair version at home to recreate that island magic. Allow me to introduce my whole Jerk Chicken. It's oven-roasted in a spicy beer broth resulting in a super flavorful anddddd oh so JUICY bird plus it's spatchcocked for a more even and faster cooking.
It's perfect for backyard cookouts, picnics, dinner, or holiday dinners – any day of the week! You can also check out my grilled jerk chicken recipe for a more authentic flavor.

You can generously drizzle with my sweet and spicy jerk sauce and pair with white rice or Jamaican rice and peas, festival, fried dumplins or hardo-bread for delicious meal.

Whichever way you choose to enjoy it, your tastebuds will thank you.
What Type Of Chicken Is Best For Roasting?
Broilers, roasters, cornish hens are all excellent for roasting.
Choose plump, well-shaped chicken with smooth skin, firm flesh and a fresh smell.
What's The Secret To The Juiciest Oven-Jerk Chicken?
Here are a few tips I think will help you to roast up the juiciest roast chicken every time:
Season the chicken generously. Season the chicken inside and out. Add seasoning and fresh herbs in the cavity and well as under the chicken skin not just on the skin.
Marinate the chicken. The longer the bird sits in the marinade the more flavorful it will be. Overnight is best.
Leave the skin on. The skin protects the chicken from drying out. Besides, who doesn't like crispy chicken skin on their roast skin?
Spatchcock the chicken. This allows the chicken to lie flat when roasting for even roasting on all sides. The breast and thighs are done at the same time. This also allows the chicken to cook up to 25% faster. If you choose to roast the chicken without spatchcocking, truss the chicken. I should point out – not trussing your chicken isn't going to ruin your chicken. But tying up your bird with a bit of twine will keep it more compact and prevent the breast meat from drying out before the thighs and legs are cooked. I'll confess, I rarely truss my chicken. I like the crispy ends on the wings. I guess that's the Jamaican in me. Do what works for you.
Temper the bird. Don't place the cold chicken in the oven. Allow it to sit on the counter and come down to room temperature (or at the very least get the chill off) prior to roasting. This is key to producing an evenly cooked chicken and this is also a safe process (just in case you were wondering).
Calibrate your oven. This will ensure you're getting an accurate reading of the temperature. Every oven is different so grab the manual for the most accurate way to calibrate it.
Preheat the oven. Allow the oven to come up to temperature prior to placing the chicken in the oven. Meats, roasts, and poultry can't brown in a cold oven. And there's nothing worse than having one part of your dish overcooked and rubbery and another part not cooked at all.
Use a roasting pan, oven-proof skillet, or cast-iron skillet.
Roast the whole chicken uncovered or covered. Personally, I prefer to roast my birds covered and increase the temperature when it's close to finishing to crisp up the skin. The choice is yours. If you choose to roast it uncovered, you can tent it with foil if it's browning too quickly.
Oven temperature. Technically you can roast your chicken at any temperature. 420-430 degrees Fahrenheit is my sweet spot. Timing and results will vary. Go low and slow for very tender, falling-off-the-bone flesh and softer skin (around, 300 to 350 degrees for 1 ½ to 2 hours or so). Or roast it fast and furiously for less time for crisp, dark brown skin and firmer, chewier flesh (between 375 and 500 degrees for 45 minutes to 1 1/2 hours).
Remove the chicken from the oven once the internal temperature reaches between 155°F to 160°F and then allow the chicken to sit and continue to cook until it reaches a final internal temperature of 165°F. Use a thermometer to check the temperature.
Ingredients Rundown
Ingredients To Make Whole Jerk Chicken
Whole Chicken, broilers, roasters, cornish hens are all excellent for roasting.

White distilled vinegar + tap water is used to rinse off the chicken prior to seasoning. This is a must for me but do what works for you.

Custom seasoning blend, all-purpose seasoning, pink himalyan salt, fresh cracked black pepper, whole pimento seeds (allspice berries)

Jerk seasoning this is the star of the show. Use a really good quality jerk seasoning. My personal favorite is Spur Tree Jerk Seasoning. You can also make your own.

Scallion, fresh thyme, fresh garlic are also used to bring the flavor. I prefer fresh, but you can always use what you have on hand.

Soy sauce – add a saltly flavor. You can use reduced sodium soy sauce as well.

Red Stripe Beer add another layer of flavor. Red stripe is a Jamaican beer. You can use any lager beer.

Liquid Smoke is optional. This will add a nice smoky flavor to the jerk chicken.
Recipe FAQs
Variations
Food Pairings
What Goes Well With Jerk Chicken?
This jerk chicken can easily be paired with your favorite side dish for a finger-licking meal at home. It depends on the It can pair it with creamy mashed potatoes, rice, salad, or even more vegetables.
Got Leftovers?
Make sure the leftovers have cooled down to room temperature before storing.
How To Store Leftover Jerk chicken In The Fridge?
You can store your leftover jerk chicken pieces in the fridge for 3-4 days.
Leftovers can be kept for 3-4 days in the refrigerator. After that, the risk of food poisoning increases. If you don't think you'll be able to eat leftovers within four days, freeze them immediately.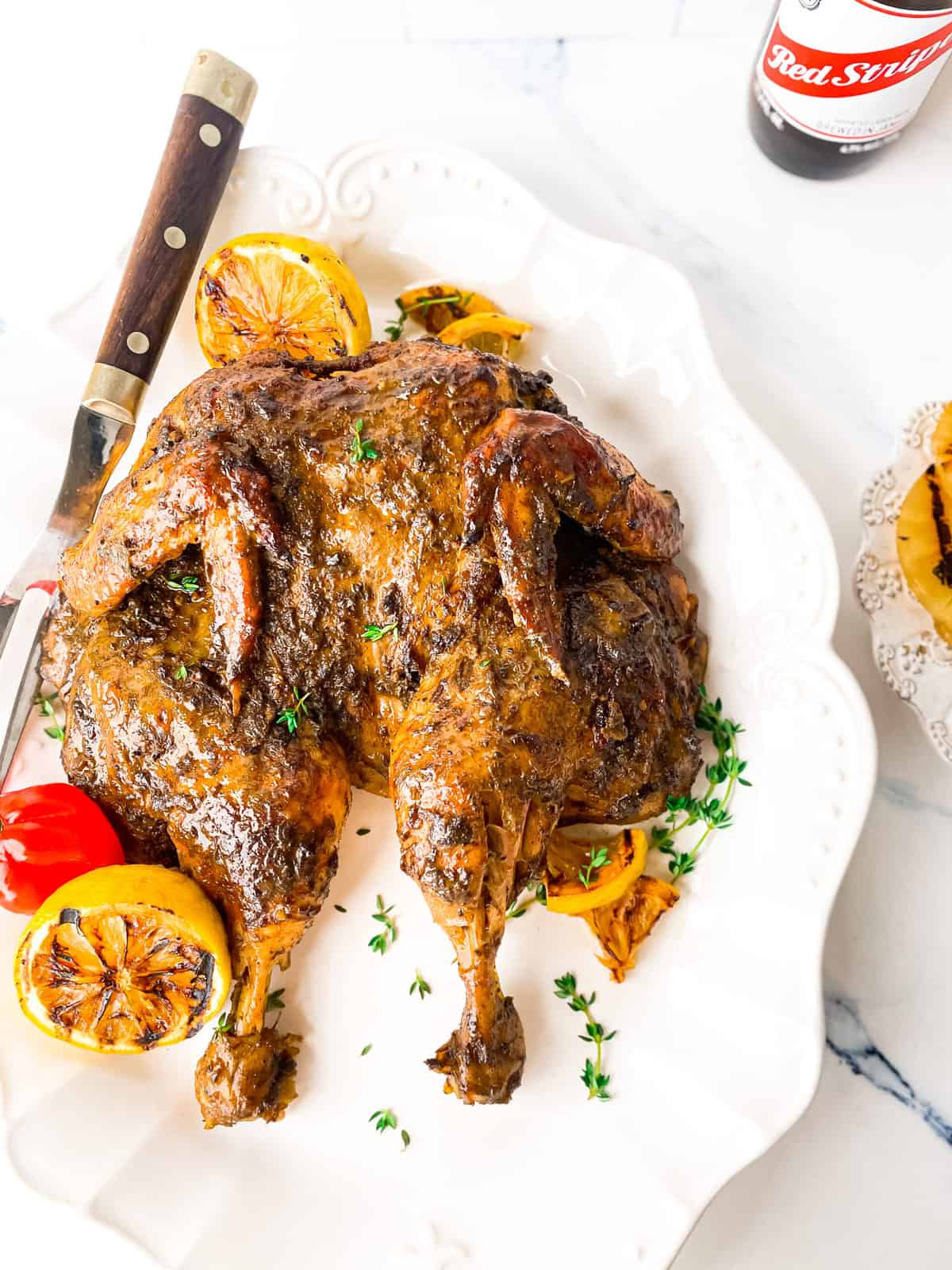 How To Store Leftover Jerk Chicken In The Freezer?
Store your leftovers covered in
airtight containers
or
heavy-duty freezer bags
, or
wrap tightly with heavy-duty aluminum foil
or
freezer wrap.
How Long Does Jerk Chicken Last In The Freezer?
Properly stored, it will maintain the best quality for about 4 months but will remain safe beyond that time. Personally, I do not recommend freezing any leftover fried chicken as it may affect the crispy exterior.
Need To Reheat?
How To Reheat Leftover Jerk Chicken On The Stove Top
Empty the roasted chicken in a skillet over low heat and allow the food to heat all the way thru slowly. Turn pieces occasionally to ensure it heats all the way through. The does take some patience to re-heat this way, but of course, you can use the microwave. (see microwave instructions below)
How To Reheat Leftover Jerk Chicken In The Microwave?
The microwave is quick and convenient but it is not the best method for reheating your leftover chicken, it's most likely to yield a rubbery or chalk-dry piece of chicken. yuck! If you must microwave the bird, follow these steps for the best results: Place a damp paper towel over the plate to add moisture and prevent the goat meat from drying out too much. Reheat for about 4-5 minutes until your meal has heated all the way through. The actual time varies depending on your microwave.
How To Reheat Leftover Jerk Chicken In The Oven?
Set the oven to 350°F and remove the chicken from the fridge. While you wait for the oven to come to temperature, take the chill off your bird by letting it rest at room temperature on the counter. Place chicken in an oven-safe dish. To keep the chicken moist, pour a cup of chicken broth into the bottom of the dish (or pan juice). Cover the dish with foil and place it in the oven.
Let the chicken roast for approximately 25 minutes. Remove the foil and let roast for an additional 5 minutes to crisp up the skin. Remove chicken from the oven and enjoy.
Kraving More?
Check out my other krave worthy Jerk Recipes, Chicken and Poultry Recipes or explore The Recipe Index for even MORE KRAVE-WORTHY EATS.
Key Equipment/Products Use
Nutrition Information
Nutrition Facts
4 servings per container
---
Calories745.45
Amount Per Serving% Daily Value *
Total Fat 42.83g

65

%
Sodium 3574.24mg

149

%
Amount Per Serving% Daily Value *
Potassium 1184.51mg

34

%
Total Carbohydrate 14.37g

5

%
Protein 69.92g

138

%
Vitamin A

140.52

%
Vitamin C

140.52

%
Iron

3.36

%
Phosphorus

575.36

%
Zinc

3.57

%
* The % Daily Value tells you how much a nutrient in a serving of food contributes to a daily diet. 2,000 calories a day is used for general nutrition advice.
Nutritional Disclaimer
kerriannskravings.com occasionally offers nutritional information for recipes contained on this site. This information is provided as a courtesy and is an estimate only. To obtain the most accurate representation of the nutritional information in any given recipe, you should calculate the nutritional information with the actual ingredients used in your recipe. For more information read our Nutritional Disclaimer.