When you're kraving a hearty and comforting dinner, this Irish-inspired Guinness Beef Stew is the perfect thing for you to make. You can make it quick in the Instant-Pot (pressure cooker) or low and slow in the slow cooker (you choose!) I've added instructions for both methods.
The beauty of using the Instant Pot is you get all the flavor of a slow-cooked stew done in a fraction of the time. It's the perfect cozy dinnertime meal. Simmered in a bottle of Guinness, red wine, and fresh aromatics until it's perfectly rich, cozy and delicious, and ultra comforting, especially on a cold day.
The Guinness Beef Stew is a family fave. Each time I make it, I love it more and more.
What Are Instant Pots?
Instant Pots are a brand of electric pressure cookers or multicookers. Pressure cookers work by creating heat under a tight seal, so the temperature is much higher than the boiling point of water and the steam can't escape. The steam cooks food much more quickly than traditional stovetop or oven cooking. You can learn more about how to use an Instant Pot Here.
What Are The Best Cuts of Beef for Stews?
The tougher cuts of beef are best. They are typically more budget-friendly than the leaner cuts (well, except for oxtail – The price of oxtail is just criminal at this point.)😩 They are marbled and loaded with flavor and when cooked low and slow the collagen will break down resulting in a rich, flavorful and tender stew. Try one of these cuts for your next beef stew:
Chuck
Oxtail
Bone-in short rib
Fatty brisket ("point" or "second cut")
Cross-cut shanks
Bohemian (Bottom Sirloin Flap)
How Long Does It Takes To Cook Beef In An Instant Pot?
For large chunks, you cook for 20 minutes (per pound of meat) at high pressure and 15 minutes (per pound of meat) for smaller chunks.
What's the secret to a Good Stew Beef (Beef Stew)?
Using the wrong cut of meat. Choosing the right cut is everything and will make or break your beef stew. The tougher cuts are best and will result in a richer, flavorful, and tender stew. I've provided a list above (scroll up).
Marinate the beef. Allow that beef to sit in marinate as long as possible- up to 24 hours.
Searing the meat first. Searing it over high heat gives the meat a deeper, richer flavor. Avoid overcrowding the pot as this will build up steam allowing the meat to simmer in its juices instead of forming a nice crust.
Don't forget to de-glaze. Use the red wine to de-glaze. Then scrape all the brown bits from searing the meat and incorporate all that flavor into the stew.
Use broth to add even more flavor. I prefer chicken broth to beef when cooking beef stew. It contains fewer additives, and the flavor is lighter than the beef allowing all the flavors in the beef stew to shine through.
Cook for the appropriate amount of time. This will allow the beef to cook and become tender and juicy.
Add veggies at the right time. Add your root vegetables toward the end of the cooking process. That way, they don't overcook and mash out completely.
Taste. Taste your broth and adjust for salt accordingly.
Thickening Gravy – Decide if you'll use a cornstarch slurry or allow the broth to reduce and thicken up on it own.
Ingredients Rundown
Ingredients To Make Guinness Beef Stew
Meat

Beef chuck – Use a well-marbled cut of meat like the chuck and round roast will give you a luxurious gravy texture and the beef stew will be full of flavor.

Seasonings

Garlic powder – you can also use granulated garlic.

Onion powder – you can also use granulated onion.

Smoked paprika -adds a subtle flavor, but you can also use regular paprika.

Salt – my salt fo choice of salt is always Pink Himalyan salt, but the choice of salt is completley up to you.

Fresh cracked black pepper – tastes so much better than ground black pepper you buy in the store, but the choice is completely up to you.

All-purpose seasoning

Aromatics

Custom seasoning blend – this adds another layer of flavor. It's my own fresh blend.

Whole pimento seeds – brings that Caribbean vibe.

Fresh thyme – is more fragrant than the dry– it's my FAVE. The choice is yours. Dry thyme will work as well.

Garlic cloves – you can use garlic paste, roasted dehydrated garlic as well.

Scotch bonnet pepper – You're in control of the heat. Leave it whole and let it float on top to only extract the flavor from the skin. Add slices if you want a more intense heat. How many—thats your call.

Bell peppers – the choice of colors are up to you.

Yellow onion, and Scallion (green onion)

Produce

Carrots and potatoes – no self respecting stew exists without carrots or potato. You can choose one or the other or both.

Liquids

Dry red wine – will give the stew a deeper more complex flavor. Pick a red wine you would enjoy to drink as this flavor will infuse into the gravy. Then drink the rest! cheers!

Chicken stock – adds flavor, depth, and complexity. Store bought beef stock is "almost always inferior in flavor to boxed chicken stock with more flavor enhancing chemicals and less actual beef."

Guinness Extra Stout Beer – The alcohol will evaporates as the stew simmers (but there will still be traces of alcohol present in the stew) and you will be left with a deep and robust flavor. If you use any other beer besides Guinness Extra Stout you will still get a nice stew, but it may not be as robust or as deep. Regular Guinness will work as well.

Soy sauce – adds a salty unami flavor.

Browning Sauce – add carmelized color to the meat.

Tomato puree – You can also use tomato ketchup.

Oils

Vegetable oil the choice of vegetble oil is up to you.

Dairy

Butter

Garnish

Parsley

Other

All-purpose flour (optional) Adding the all-purpose flour will allow the beef to form that beautiful crust when searing in the instant pot.

Brown sugar (optional) it balances out the salty and savory flavors. If you used tomato ketchup instead tomato puree then no need to use the brownsugar because the ketchup contains enough sugar – no need to add more.

For Rinsing The Meat
¼ cup white distilled vinegar
cold water
*** The full recipe, including all ingredients, measurements, instructions, and recipe video 🎥 is located in the recipe card below.
Can I use Regular Guinness or Beer If I cannot Find Guinness Extra Stout?
Absolutely! If you use any other beer besides Guinness Extra Stout you will still get a nice stew, but it may not be as robust or as deep. Regular Guinness will work as well.
What Goes Well With Guinness Beef Stew?
I typically served beef stew over white rice or mashed potatoes.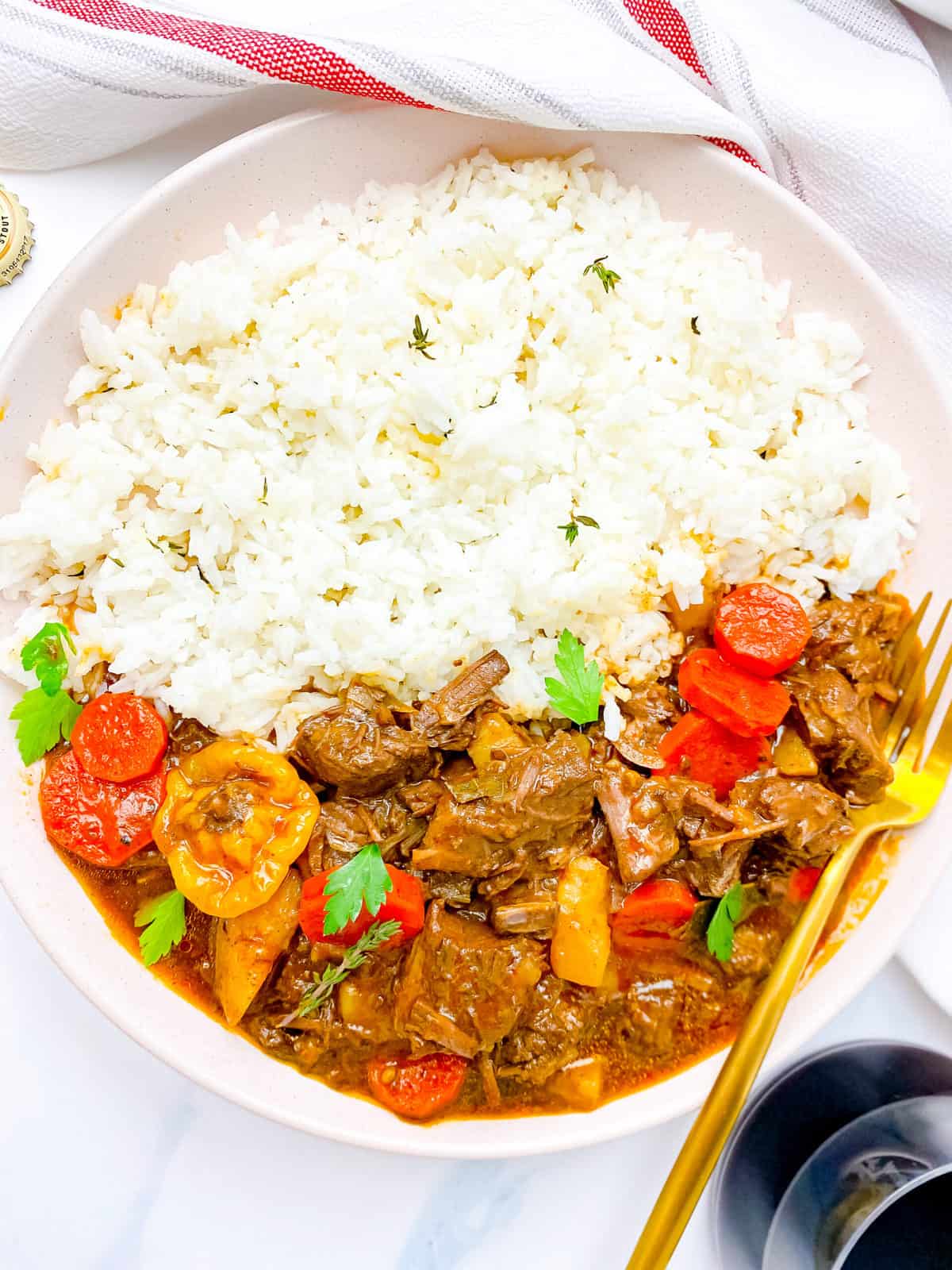 Got Leftovers?
Make sure the leftovers have cooled down to room temperature before storing.
How To Store Leftover Guinness Beef Stew In The Fridge?
You can store your leftover beef stew in the fridge for 3-4 days.
How To Store Guinness Beef Stew In The Freezer?
Store your leftovers covered in airtight containers or heavy-duty freezer bags, or wrap tightly with heavy-duty aluminum foil or freezer wrap.
How Long Does Beef Stew Last In The Freezer?
Properly stored, it will maintain the best quality for about 4 months but will remain safe beyond that time.
Leftovers can be kept for 3-4 days in the refrigerator. After that, the risk of food poisoning increases. If you don't think you'll be able to eat leftovers within four days, freeze them immediately.
Need To Reheat?
How To Reheat Leftover Beef Stew Recipe Name On The Stove Top
Empty the beef stew in a saucepan over low heat and allow the food to heat all the way thru slowly. It does take some patience to re-heat this way, but of course, you can use the microwave. (see microwave instructions below)
How To Reheat Leftover Beef Stew In The Microwave?
Place a damp paper towel over the plate to add moisture and prevent the goat meat from drying out too much. Reheat for about 4-5 minutes until your meal has heated all the way through. The actual time varies depending on your microwave.
Kraving More?
Check out my other krave worthy instant pot recipes , or discover a new fall recipe or beef recipes. Explore The Recipe Index for everything in between.
[wx-shopping-list]
Key Equipment/Products Used
Nutrition Information
Nutrition Facts
4 servings per container
---
Calories1127.42
Amount Per Serving% Daily Value *
Total Fat 59.11g

91

%
Sodium 3242.28mg

136

%
Amount Per Serving% Daily Value *
Total Carbohydrate 43.91g

15

%

Dietary Fiber 3.61g

12

%
Sugars 9.23g

Protein 52.07g

104

%
* The % Daily Value tells you how much a nutrient in a serving of food contributes to a daily diet. 2,000 calories a day is used for general nutrition advice.
kerriannskravings.com occasionally offers nutritional information for recipes contained on this site. This information is provided as a courtesy and is an estimate only. To obtain the most accurate representation of the nutritional information in any given recipe, you should calculate the nutritional information with the actual ingredients used in your recipe. For more information read our Nutritional Disclaimer.