The Jamaican Curry Goat is a traditional Jamaican dish and what I personally call a pot of Caribbean Goodness😍. It's marinated overnight and infused with all those flavors of the Caribbean, then slow-cooked in a spicy, thick, rich, and luscious gravy of aromatics and spices, resulting in succulent, fall-off-the-bone tender and juicy chunks of meat bursting with aromatic spicy flavors andddddddd it all comes together in the oven. BIG WIN!
Curry goat is a traditional Jamaican dish slow-cooked on the stovetop, outside over an open flame, or on a coal stove. This version (mostly) a hands-off method allows the goat to cook evenly and slowly and there is no compromise on flavor whatsoever. NONE!
Curry is hands down my favorite spice. It instantly makes everything taste so much better. True story. The Jamaican curry is magic. I hope you will love this recipe as much as I do and add it to your meal rotation.
What's The Difference Between Jamaican Curry And Indian Curry?
Before we dive into cooking this delicious dish, Let's talk curry!!
The main difference between Jamaican and Indian curry is that Jamaican curry is made with curry powder. Curry in India is not made with curry powders (that's a UK invention) and is often sauce-based with either coconut milk or cream blended with tomatoes, fresh herbs, and toasted spices.
Jamaican curry is not a single spice but a unique blend of spices which often includes a mix of turmeric, cumin, paprika, cardamom, garlic, and fenugreek. Its also infused with pimento seeds (allspice berries), which gives Jamaican curry its unique flavor and sets it apart from most other curries. Got it? Excellent.😁 Let's move on.
What Are The Differences Between Goat Meat, Mutton, and Lamb?
Goat Meat
Now that we know the differences in curries let's talk goat meat – shall we? Goat meat comes from goats, not sheep. Jamaicans have historically referred to goat meat as mutton. It's NOT the same thing, but if you hear a Caribbean (or South Asian) person mentions "mutton" in a sentence they are more than likely referring to goat meat. Got it? lol 😎.
Goat meat is red meat, with fine-grained flesh and ranges in color from light pink to bright red. The tender cuts have a sweet but only slightly gamey flavor.
Goat meat is also lower in calories, saturated fats, and cholesterol than beef, pork, lamb, and chicken. The goat is lean with very little fat or marbling, so high temperatures will make it tough when cooked. Low and slow is always the go.
The common name for goat meat is simply "goat", though meat from adult goats is referred to as chevon, while that from young goats can be called capretto (It.), cabrito (Sp.), or kid.
Mutton
The meat of an adult sheep (around two to three years old) is mutton.
Mutton has a deep red color and is fattier than lamb. It is also tougher and the flavor is stronger and gamier. This is because it contains a higher concentration of fatty acids which intensify as the animal becomes older.
You can serve up your oven-cooked curried goat with your choice of rice, veggie, or roti wrap for an insanely delicious meal.
Lamb
The meat from a sheep in its first year is lamb. Fresh lamb meat varies in color from light pink to pale red. Generally the darker the shade of pink, the older the animal.
Ingredient Rundown
Ingredients To Make Jamaican Curry Goat
Goat Meat – cut them in 1-2 inch chunks. The bones are pretty tough. Ask your butcher to cut them up at purchase. This will save you time and aggravation.

Spices – Jamaican curry, all-spice, turmeric, all-purpose seasoning, garlic powder, onion powder (you can use granulated garlic powder or onion powder)

Other – freshly cracked pepper, salt, dry bay leaves, boiling water, and butter

Vinegar – I used white distilled vinegar to rinse the meat. You can also use lime juice or lemon.

Aromatics – yellow onion, garlic cloves, whole scotch bonnet pepper, fresh ginger, my custom seasoning blend, fresh thyme, scallions (both green and white parts)

Vegetables – carrots and white potatoes

Garnish – Fresh thyme (optional)

*** The full recipe, including all ingredients, measurements, and instructions, and recipe video 🎥 is located in the recipe card below.
Where To Source Key Ingredients?
Where Can I Buy Jamaican Curry Powder?
I can always pick up a pack of my favorite curry powder at my local grocery store. You'll definitely find it at the Caribbean Market if there is one close by. If you're unable to locate the item in your area you can also source it from Amazon. I've linked a few for your convenience. My absolute favorite Jamaican Curry powder is Betapac Curry (not sponsored). Betapac Curry is a product of Jamaica and the brand preferred by most Jamaicans.
Here are some other brands you might like as well:
Where Can I Buy Quality Goat Meat?
You should be able to source good quality goat meat at the butcher in the Caribbean community or the local Halal butcher shop. I personally prefer to buy my goat meat directly from the butcher shop (instead of the supermarket). It's usually better cuts and quality.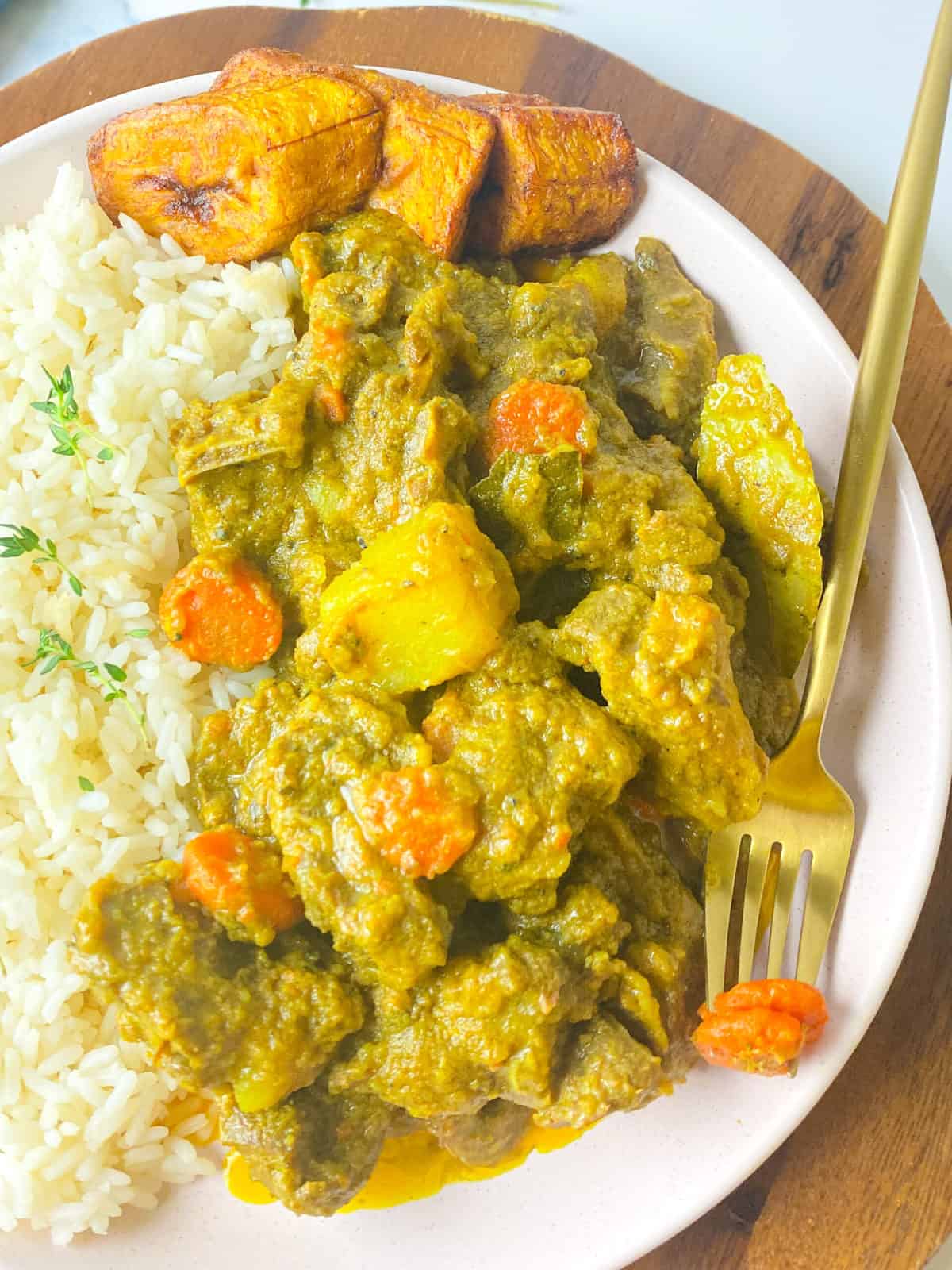 Substitution
Can I Substitute Jamaican Curry for Indian or Thai Curry?
No, Nope! Not for this dish. Thai and Indian curries are different flavor profiles and differ from the Jamaican Curry in taste and composition.
Do I Need to include both carrots and potatoes?
No, you don't need to add both. You can choose between the two ingredients. The carrots add color + nutrients and in my opinion, is a must for any respectful stew. The potato makes it heartier and helps to thicken the gravy. You can also use a cornstarch slurry as a thickening agent.
If you're using a slurry add it gradually and check the consistency before adding more. I use a 1:2 ratio of corn starch to cold tap water.
What Goes Well With Curry Goat?
You can serve yours up with a variety of sides.
It's typically served with plain white rice or Jamaican rice and peas. You can also with boiled provisions, wrapped in a delicious roti or even over mashed potatoes. Let me know in the comments how are you serving yours?
Got Leftovers?
Make sure the leftovers have cooled down to room temperature before storing.
How To Store Leftover Curry Goat In The Fridge?
You can store your leftover curry goat in the fridge for 3-4 days.
Leftovers can be kept for 3-4 days in the refrigerator. After that, the risk of food poisoning increases. If you don't think you'll be able to eat leftovers within four days, freeze them immediately.
How To Store Leftover Curry Goat In The Freezer?
To store your leftover curry goat freeze it in an airtight container with a lid or heavy-duty freezer bags, or wrap tightly with heavy-duty aluminum foil or freezer wrap.
How Long Does Curry Goat Last In The Freezer?
Properly stored, it will maintain the best quality for about 4 months but will remain safe beyond that time.
You can freeze your curry goat in small batches. This way you don't have to reheat the whole thing for small servings; it reheats really well.
Need To Reheat?
How To Reheat Leftover Curry Goat On The Stovetop?
The curry goat reheats really well on the stovetop. You can remove the frozen meal from the freezer and allow it to thaw in the fridge until you are ready to reheat. This is my preferred and go-to for reheating most of my leftovers. The food tastes a lot fresher and much better in my opinion.
Empty the curry goat in a saucepan over low heat and allow the food to heat all the way thru slowly. It does take some patience to re-heat this way, but of course, you can use the microwave. (see microwave instructions below)
How To Reheat Leftover Curry Goat In The Microwave?
This is not my preferred method of reheating my leftovers. It heats unevenly and sometimes the food just tastes a bit off flavorwise (in my opinion) But I'm fully aware that the microwave is quick and efficient and if it's your preferred way to reheat here's what I suggest:
Place a damp paper towel over the plate to add moisture and prevent the goat meat from drying out too much. Reheat for about 4-5 minutes until your meal has heated all the way through. The actual time varies depending on your microwave.
Kraving More?
Check out my other krave-worthy curry recipes, or explore The Recipe Index for even MORE KRAVE-WORTHY EATS.
Key Equipment/Products Used
Nutritional Information
Nutrition Facts
4 servings per container
---
Calories683.74
Amount Per Serving% Daily Value *
Total Fat 28.35g

44

%
Sodium 2539.34mg

106

%
Amount Per Serving% Daily Value *
Potassium 1971.5mg

57

%
Total Carbohydrate 29.24g

10

%
Protein 74.76g

148

%
Vitamin A

844.83

%
Vitamin C

36.85

%
Iron

13.34

%
Phosphorus

714.62

%
Zinc

14.43

%
* The % Daily Value tells you how much a nutrient in a serving of food contributes to a daily diet. 2,000 calories a day is used for general nutrition advice.
kerriannskravings.com occasionally offers nutritional information for recipes contained on this site. This information is provided as a courtesy and is an estimate only. To obtain the most accurate representation of the nutritional information in any given recipe, you should calculate the nutritional information with the actual ingredients used in your recipe. For more information read our Nutritional Disclaimer.