This is not your average seafood boil, this jerk butter seafood boil version has a spicy twist and of course, packed with loads of flavor. This jerk butter seafood boil comes loaded with snow crab leg clusters, jumbo shrimp, slices of hot Italian sausages, creamy russet potatoes, and juicy corn all topped off with a spicy jerk butter baked in a roasting pan for a spicy, flavorful & addictive dish.

It's a complete meal in one pot that's perfect for feeding a crowd.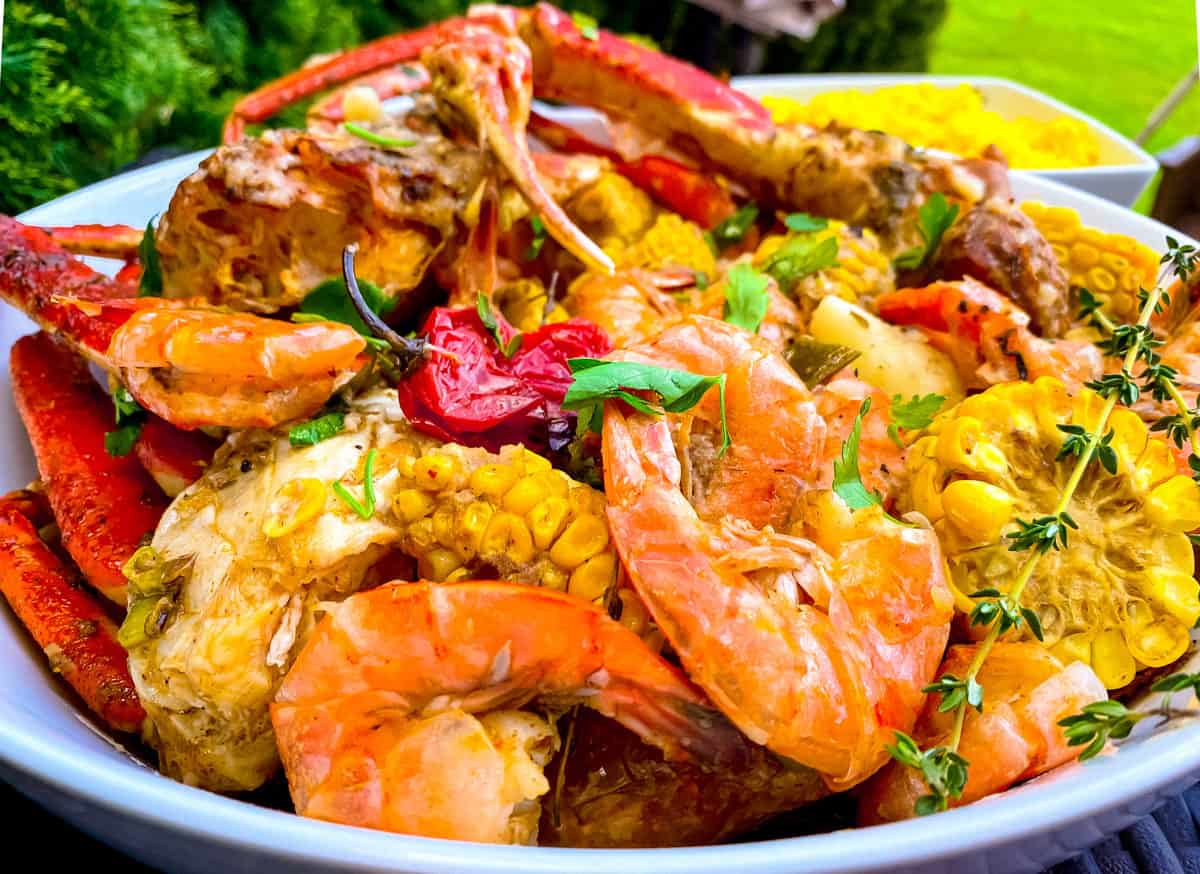 What is Seafood Boil?
A seafood boil is a delicious Southern-American staple that can easily be prepared in one pot. A Seafood boil typically has all sorts of seafood: crab, crawfish, clams, etc. Usually, corn and red potatoes are boiled along with the seafood in a broth flavored with copious amounts of Old Bay seasoning. The best part? There are no plates or silverware for a seafood boil. It's traditionally served on a table lined with paper, often with even Old Bay seasoning. For this seafood boil recipe, we're skipping the Old Bay and replacing it was a delicious sweet and spicy jerk butter for more of a Caribbean vibe.
What Is Jerk Butter?
Jerk butter is a compound butter infused with Jamaican jerk seasoning. It's the perfect mix of spicy and sweet. Compound butter is one of the most versatile things to keep on hand. It's easy to make and the details can be found on the recipe card.
Ingredient Rundown
Ingredients To Make Jerk Butter Seafood Boil
Seafood – You're not limited in your choice of seafood. For this recipe I used Raw jumbo shrimp (deveined, shell and tail on) & king crab legs.
Hot Italian Sausage – I love the spiciness and flavor of the hot Italian sausage. You can use the Andouille sausage.
Fresh corn – I recommend fresh corn instead of the frozen variety which tend to be mushy well cook. Fresh corn just taste better (in my opinion)
Potatoes – I prefer and use russet potatoes. You can also use the red potatoes. Most people prefer the red because they are firmer than the russet when cooked. I enjoy the "mushiness" of russet. The choice of potato is completely up to you.
Parsley and lemon wedges for garnishing (optional)
Ingredients To Make Jerk Butter

Butter (salted or unsalted) I recommend real butter and not butter substitutes. The Real butter taste is unmatched.
Custom SeasoninCaribbean Seasoning Blendg Blend – this is my holy grail of seasonings. It's a blend of my favorite fresh seasons. The custom blend adds another layer of flavor to the jerk butter seafood boil.
Jerk seasoning – This brings that spiciness and Caribbean flavor in our jerk butter. You can use the bottled jerk seasoning, homemade jerk seasoning, or the dry jerk rub.
Fresh thyme – You can use fresh or dried thyme. Either one works.
Scotch bonnet peppers – bring flavor and heat. You can use them whole to add flavor only or you can add slices for more intense heat. If scotch bonnet peppers are not readily available in your area you can use habanero. You can also leave it out. It's completely up to you.
Dry Bay leaves – adds flavor.
Pink Himalayan Salt – the choice and amount of salt used is completely up to you. The salt will bring out all the flavors in the dish.

*** The full recipe, including all ingredients, measurements, instructions, and recipe video is located in the recipe card below.
Substitutions
Can I Use Frozen Seafood In My Seafood Boil?
You absolutely can! Most frozen seafood comes precooked. Keep that in mind and adjust cooking time accordingly.
Can I Use a Dry Jerk Rub Instead Of The Wet Jerk Rub?
Yes, you can use the dry jerk rub to create your jerk butter.
Variations
Can I Cook Seafood Boil In An Oven Bag?
Yes, the seafood boil can easily be prepared in an oven bag. Oven bags are great and they save you time on clean up. They are super easy to use. I've added instructions on how you can prepare this jerk butter seafood boil recipe in an oven bag on the recipe card.
What To Serve Seafood Boil With?
A seafood boil is perfect and complete on its own but you can pair it with your favorite side dish. Here are a few of my favorite sides to pair with my homemade seafood boil:
Yellow rice
Crusty french bread
Potato salad
French fries
Let me know in the comments what your side dish of choice is.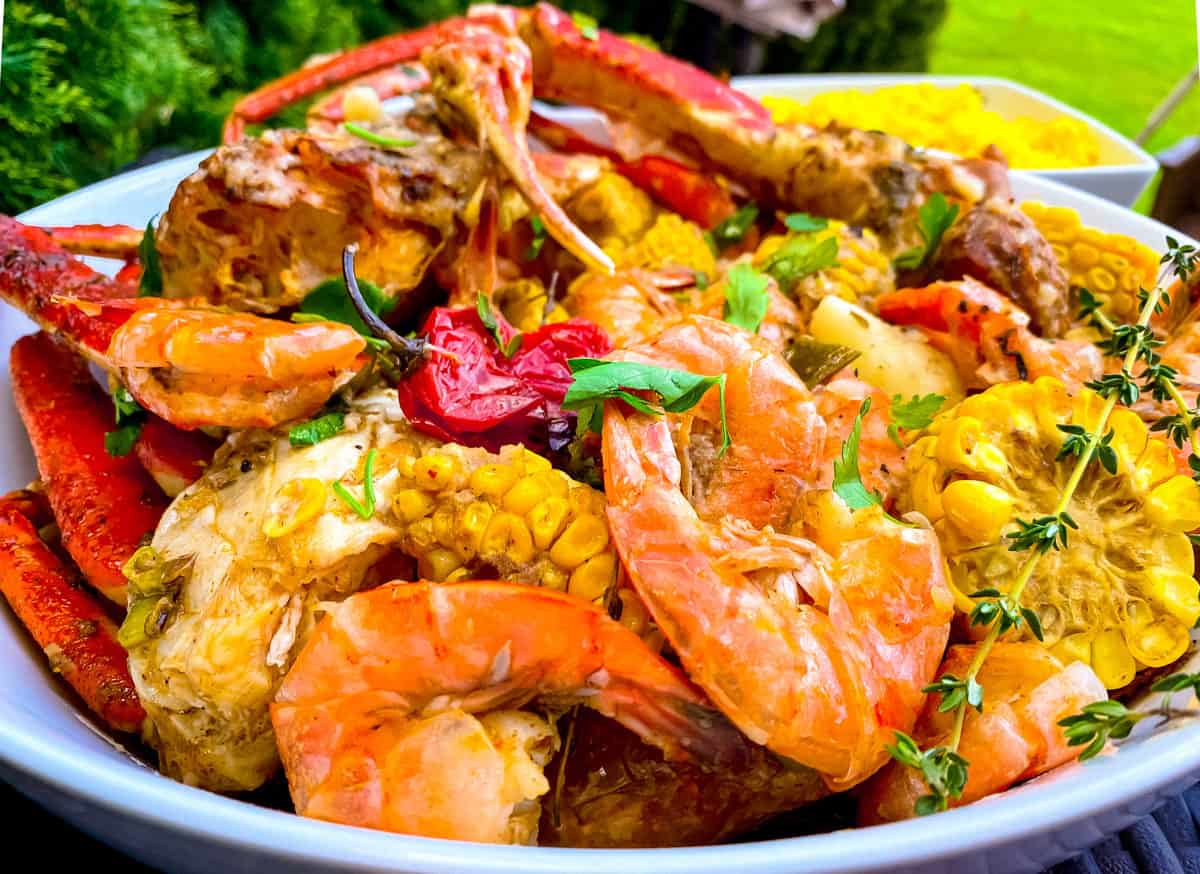 What To Drink With Your Seafood Boil?
Don't forget to grab some boozy libations on the way home from the grocery store. Boils are casual backyard parties – no need to grab the top-shelf Chardonnay. Opt for refreshing big-batch cocktails, locally brewed beers, or try out my personal favorite – Red Stripe Beer.
Got Leftovers?
How To Store Leftover Seafood Boil In The Fridge?
You can store your leftover seafood boil in the fridge for 3-4 days. Store your leftovers in re-sealable plastic bags or in a large container with an airtight lid.
Need To Reheat?
Leftovers can be kept for 3-4 days in the refrigerator. After that, the risk of food poisoning increases. If you don't think you'll be able to eat leftovers within four days, freeze them immediately.
How To Store Leftover Seafood Boil In The Freezer?
Store your leftover seafood boil in a covered airtight container with a lid, or heavy-duty freezer bags, or wrap tightly with heavy-duty aluminum foil or freezer wrap.
Need To Reheat?
What's the best way to reheat seafood boil?

The best way to reheat your jerk butter seafood boil is in the oven at a low temperature (275° Fahrenheit). The oven reheats food evenly and your food will taste just as fresh as when it was first cooked.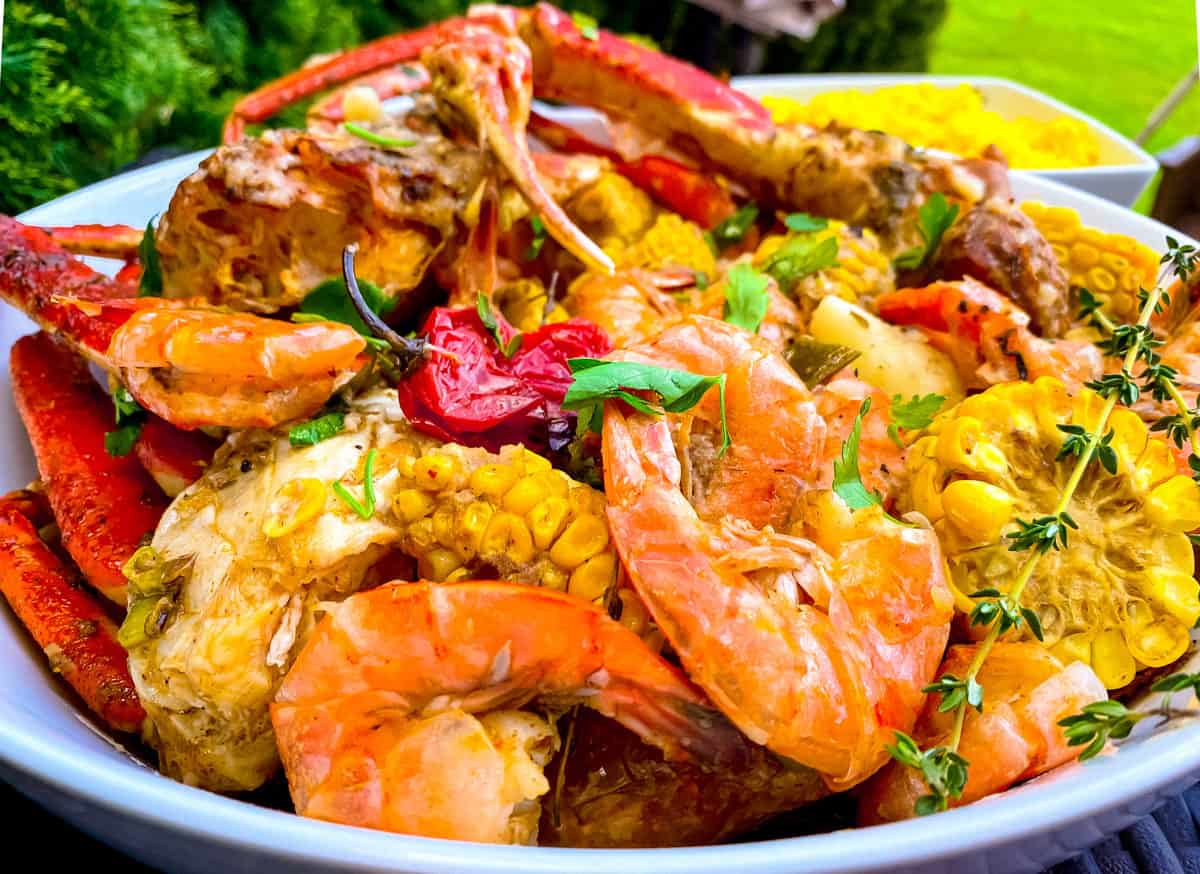 Kraving More?
Check out my other krave-worthy Seafood Recipes, Summer Recipes or explore The Recipe Index for even MORE KRAVE-WORTHY EATS.
Key Equipment/Products Used
Nutritional Information
Nutrition Facts
4 servings per container
---
Calories1055.29
Amount Per Serving% Daily Value *
Total Fat 79.35g

122

%
Sodium 1108.29mg

47

%
Amount Per Serving% Daily Value *
Total Carbohydrate 30.48g

10

%
Protein 56.32g

113

%
* The % Daily Value tells you how much a nutrient in a serving of food contributes to a daily diet. 2,000 calories a day is used for general nutrition advice.
kerriannskravings.com occasionally offers nutritional information for recipes contained on this site. This information is provided as a courtesy and is an estimate only. To obtain the most accurate representation of the nutritional information in any given recipe, you should calculate the nutritional information with the actual ingredients used in your recipe. For more information read our Nutritional Disclaimer.