This Jamaican Easter bun recipe produces a dark, rich, soft, and moist holiday bun that's bursting with authentic flavor. It's highly spiced with hints of cinnamon and nutmeg, and studded with raisins and cherries for a delicious fruity finish. Enjoy it as a snack or a delightful dessert.
You cannot have an Easter celebration in Jamaica without the most amazing Jamaican Easter Bun with a slice of "tin cheese" nestled between two slices. The spiced bun is an integral part of the Jamaican Easter celebration experience. While the Easter bun is available all year round – it just tastes way better at Easter. amirite? Sound off in the comments if you feel me on this one. The phenomenon is unexplainable.
I've tried many different brands over the years and love them all, but I must admit that there is a certain cultural pride that comes from baking your own Easter bun. Once you start baking your own bun, you simply cannot go back to store-bought.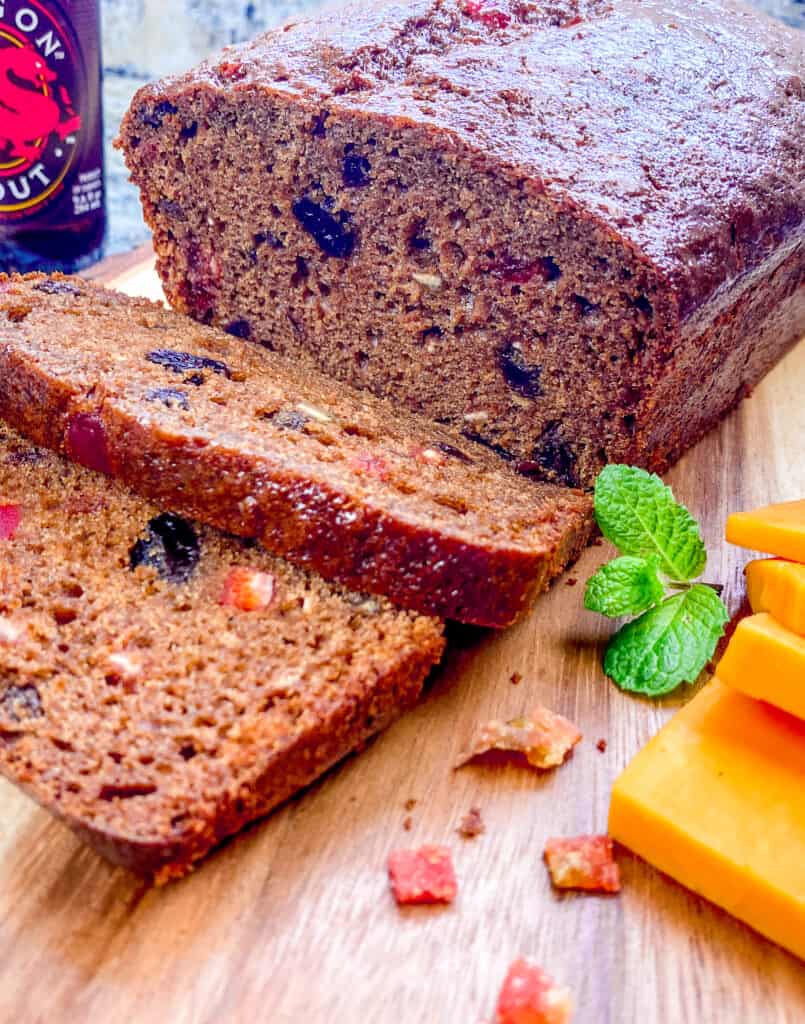 This year, you've opted to make a homemade Easter bun or you're at least looking to try a new Easter bun recipe. Either way, you're in the right place. I'm glad you're here and happy to guide you through the process step-by-step.
I know you will fall in love with this homemade Easter bun and it will become your new go-to recipe. I hope you will come back and share your experience with our community down in the comments as well as share the recipe with your friends and family.
Now, Let's get into the Amazing Jamaican Easter Bun recipe!
The Jamaican Easter Bun is technically a quick bread or sweet bread but typically enjoyed as a snack or dessert in Jamaica.
History Of The Jamaican Easter Bun
Eating Bun and Cheese was originally a British tradition during the 1600 and 1700s. In the UK, a small, round, and slightly sweet buns, called hot cross buns, were made with a cross cut into the tops. Sale and consumption of the buns were supposedly forbidden in England, except during specific times, one of which was Good Friday. The cross came to symbolize the crucifixion of Jesus.

The Jamaican Easter bun is a descendant of the hot cross bun. The tradition made its way to Jamaica when they colonized the island in the mid-1600s. Over time, the bun transitioned from the round-ish shape into a loaf, molasses was substituted for honey and dried fruits were added to the batter to make it uniquely ours – and no doubt, much yummier.
No one is sure how cheese was added to the mix, but we're not going to question the matter, because the combination just works!
7 Reasons You'll Love Making Your Own Easter Bun At Home This Year
It's completely customizerable to your taste. Leave out whatever fruits you don't like.
Contains no additives or preservatives. You know exactly what's going into your Easter bun.
Feeling of empowerment and cultural pride.
Hella bragging rights.
It's soft, moist & delicious.
It's easy to make at home.
It's fresh from the oven (it doesn't get any fresher than that).
Dragon Stout vs Guinness Stout
Jamaica's Dragon Stout is a Jamaican brewed stout It's a moderately sweet stout. It is dark brown in color with a tan head and has a dark malty aroma with a touch of roast. Lightly carbonated and easy to drink, this is a good stout for those who are beginners to dark beer. It contains 7.5-percent ABV.
Guinness Stout originated in Ireland. This is the stout that made Guinness famous. It's a mix of hop bitterness, dark malty flavor, crisp roasty notes, and bittersweet finish, Extra Stout is perhaps the definitive version of an Irish dry stout. Guinness Extra Stout is carbonated (as opposed to nitrogenated), giving it more hop bite and a crisper mouthfeel. It pours a dark ruby color with a robust, foamy tan head. A generous percentage of roasted barley in the brew gives this beer its signature clean, dry finish. The Guinness contains 5.6 percent ABV.
In short, while the Dragon Stout & Guinness Stout have different flavor profiles, they both contain a lot of complex flavors that will impart a depth of flavor to baked goods with mild notes of cocoa and a strong malt flavor- making this bread truly unique and delightful. Don't skip it. You can also use malta beverage as a non-alcohol option.
Guinness Recipes: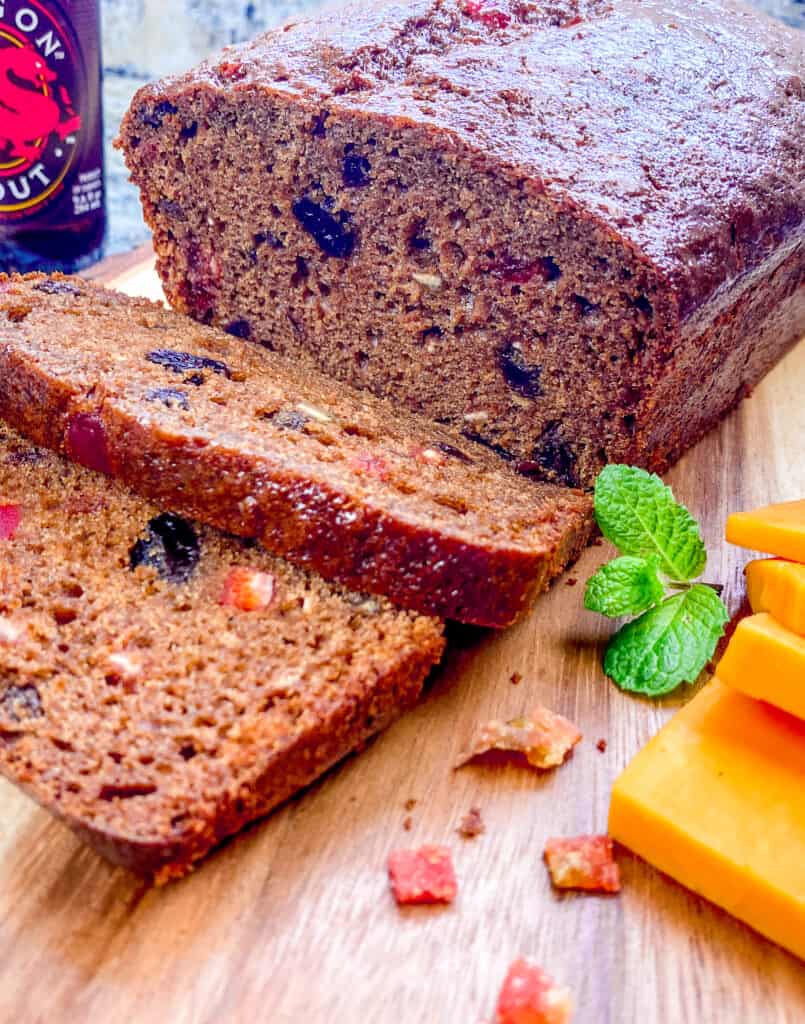 Mixed Spice vs Allspice
This famous British spice blend has been enjoyed in Christmas baking for several centuries. With both sweet and savory applications, it's a deliciously versatile spice blend. A mixed Spice blend is a bunch of spices mixed together – a spice blend. It has a warm and sweet-spicy flavor and aroma and most commonly includes cinnamon, allspice, nutmeg and/or mace, cloves, ginger, and coriander.
How To Make A Homemade Mixed Spice
Ingredients
1 tablespoon allspice berries
2 cinnamon sticks (broken into small pieces)
1 1/2 whole nutmeg
1 teaspoon whole mace
12 pieces whole cloves
1 teaspoon coriander seeds
1 teaspoon dried ginger
Instructions
How To Toast whole or ground spices
Place the whole spices in a dry skillet over medium-low heat and stir frequently just until they become very fragrant and darken slightly. It shouldn't take more than a few minutes; watch carefully so they don't burn.
Immediately transfer to a dish to cool (if left in the hot pan, they could burn).
Grind the cooled spices to a coarse or fine powder, and use an electric coffee grinder or a mortar and pestle.
Ground spices last up to 6 month – they start to lose potency after 6 months.
Allspice
Allspice is not a spice blend. It's also called pimento seed in the Caribbean. The flavor profile is multidimensional, featuring notes of cloves, nutmeg, star anise, fennel, black pepper, and cinnamon. It's completely different from the mixed spice blend.
What Is Mixed Peel?
Mixed peel is citrus peel or rind cooked in a sugary syrup. Typically lemon and orange peel is used but it's not limited to these two only. The sugary sweetness of the syrup balances out the strong taste of the citrus peels which makes it perfect for baking. It's easy to make your own at home. You can use any citrus fruits you want, including oranges, lemons, limes, tangerines, and grapefruit, either individually or mixed together.
How To Make Mixed Peel
You can learn to make your own mixed peel at home here.
Ingredients Rundown
Ingredients You'll Need To Make The Jamaican Easter Bun

Butter – I used salted melted butter but unsalted butter works too. You'll need it for both the batter and the glaze.
Vegetable oil – adds moisture. Use a neutral oil.

Dragon or Guinness stout contains a lot of complex flavors that will impart depth of flavor to baked goods with mild notes of cocoa and a strong malt flavor- making this bread truly unique and delightful. (you can use malta as a non-alcohol option)

Extracts – the recipes calls for vanilla extract and rose water. They both add flavor. Use a good quality vanilla extract and the rose water can be optional.

Browning – adds that beautiful carmel color to the bun. A little goes a long way, use too much and it imparts a bitter flavor in the batter. You can purchase the browning at your local grocery or learn to make your own here.

Unsuphured Molasses – Molasses adds moisture and color – don't skip it.

Sweetners – honey, maple syrup or agave. The recipe also calls for packed brownsugar. You can use granulated sugar in a pinch. brownsugar imparts a much richer and deeper flavor in the bun.

Guava or strawberry jelly – jelly is also called jam in Jamaica.

All-purpose flour – gives the bun It's dense texture.

Warm spices – nutmeg, cinnamon powder, ground ginger and ground mixed spice. You can also make your own mixed spice blend at home. Scroll up to the mixed spice vs allspice section. NOTE: Ground spices lose their freshness the quickest and typically don't last past six months. Whole spices, on the other hand, can be fine for up to five years.

Salt – brings out the other flavors in the Easter bun. Pink Himalyalan salt is almost always my salt of choice but kosher works perfectly as well.

Leavening agents – baking powder and baking soda. Always check the expiration date to make sure the product is fresh.

Red label wine, port wine (or fruit juice) – Soak your fruits in wine or fruit juice to soften then and add flavor. You can also soak the fruits in plain water to soften them.

Dried & candied fruits – raisins, candied cherries and mixed peel. If you're not a fan of candied mixed peel you can use orange or lemon zest or orange jam or marmalade. You can learn to make your own mixed peel at home here. You can also use whatever dried fruits combination you prefer. Customize for your own taste.

Egg – adds extra richness and flavor. Make sure you take your eggs out of the fridge and let the come to room temp. If you forget, just pop them into a bowl with hot tap water, which will bring them to room temp faster. Room temperature eggs blend more evenly in batters and help the dough rise more easily than cold eggs straight out of the fridge.

*** The full recipe, including all ingredients, measurements, instructions, and recipe video 🎥 is located in the recipe card below.
Recipe FAQs
Substitutions
What can I use instead of honey?
You can substitute maple syrup for honey.
Can I use cake flour instead of all-purpose?
No, not for this recipe. Cake flour is ground extra-fine, which results in a lighter, loosely-structured crumb and fluffy texture. Cake flour is ideal for baked goods with a tender texture due to its low gluten content, which makes it easier to achieve lighter, tender textures when baking delicate sponges, cupcakes, muffins, and pastries. All-purpose flour is ideal as it will give the bun that dense texture you are looking for.
Is there a non-alcoholic option for the stout?
Yes! You can use Malta Beverage. You'll get some of the complex flavors of the stouts without the alcohol.
Can I use Allspice instead of Mixed Spice?
No, they are not the same thing. I covered the differences in the mixed spice vs allspice section above (scroll up).
What Can I Replace Mixed Peel With?
If you're not a fan of the candied mixed peel, you can add orange or lemon zest + some honey or sugar to the bun batter. In a pinch, you can also use orange jam or marmalade.
Variations
Can I Make The Jamaican Easter Bun Vegan?
You sure can. Swap out the dairy butter for vegan butter. Use vegan eggs and swap out the honey for maple syrup or agave.
Food Pairings
Tastee Jamaican cheese, is a popular brand that makes processed cheese similar to Velveeta.
How To Store Your Easter Bun?
Tent and cool the the Easter bun on a wire rack and cool it down to room temperature before storing.
How To Store Your Easter Bun?
Wrap the cooled Easter bun tightly in plastic wrap and store it in an air-tight container on the kitchen counter to keep it moist and fresh for up to 7 days, You can also store it in the fridge for up to 14 days. The bun gets better with time as the flavor deepens over time. If possible bake at least 2 days before you plan on serving it.
How To Store Your Easter Bun In The Freezer?
You can also store your bun in the freezer. It should be covered in an airtight container or heavy-duty freezer bag, or wrapped tightly with heavy-duty aluminum foil or freezer wrap.
How Long Does The Easter Bun Last In The Freezer?
Properly stored, it will maintain the best quality for about 4 months but will remain safe beyond that time. Defrost completely before eating.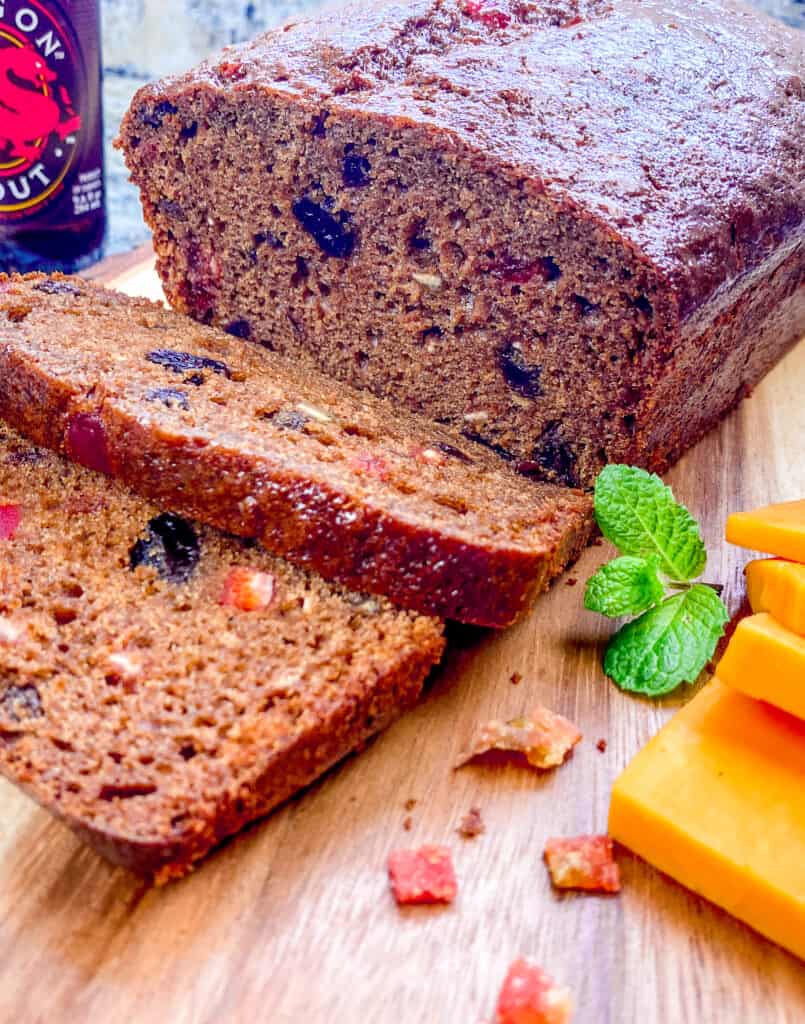 Kraving More?
Check out my other krave-worthy Easter Recipes or explore The Recipe Index for even MORE KRAVE-WORTHY EATS.
Key Equipment/Products Use
Nutrition Information
Nutrition Facts
10 servings per container
---
Calories453.95
Amount Per Serving% Daily Value *
Total Fat 9.7g

15

%
Sodium 284.66mg

12

%
Amount Per Serving% Daily Value *
Total Carbohydrate 81.5g

28

%

Dietary Fiber 1.85g

8

%
Sugars 47.42g

Protein 4.61g

10

%
* The % Daily Value tells you how much a nutrient in a serving of food contributes to a daily diet. 2,000 calories a day is used for general nutrition advice.
Nutritional Disclaimer
kerriannskravings.com occasionally offers nutritional information for recipes contained on this site. This information is provided as a courtesy and is an estimate only. To obtain the most accurate representation of the nutritional information in any given recipe, you should calculate the nutritional information with the actual ingredients used in your recipe. For more information read our Nutritional Disclaimer.